Frankenstein or a Submarine Alkaline Vent: Who Is Responsible for Abiogenesis?
Part 1: What is life–that it might create itself?
Origin of life models based on "energized assemblages of building blocks" are untenable in principle. This is fundamentally a consequence of the fact that any living system is in a physical state that is extremely far from equilibrium, a condition it must itself build and sustain. This in turn requires that it carries out all of its molecular transformations–obligatorily those that convert, and thereby create, disequilibria–using case‐specific mechanochemical macromolecular machines. Mass‐action solution chemistry is quite unable to do this. We argue in Part 2 of this series that this inherent dependence of life on disequilibria‐converting macromolecular machines is also an obligatory requirement for life at its emergence. Therefore, life must have been launched by the operation of abiotic macromolecular machines driven by abiotic, but specifically "life‐like", disequilibria, coopted from mineral precipitates that are chemically and physically active. Models grounded in "chemistry‐in‐a‐bag" ideas, however energized, should not be considered.
Frankenstein or a Submarine Alkaline Vent: Who is Responsible for Abiogenesis?
Part 2: As life is now, so it must have been in the beginning
We argued in Part 1 of this series that because all living systems are extremely far‐from‐equilibrium dynamic confections of matter, they must necessarily be driven to that state by the conversion of chemically specific external disequilibria into specific internal disequilibria. Such conversions require task‐specific macromolecular engines. We here argue that the same is not only true of life at its emergence; it is the enabling cause of that emergence; although here the external driving disequilibria, and the conversion engines needed must have been abiotic. We argue further that the initial step in life's emergence can only create an extremely simple non‐equilibrium "seed" from which all the complexity of life must then develop. We assert that this complexity develops incrementally and progressively, each step tested for value added "in flight." And we make the case that only the submarine alkaline hydrothermal vent (AHV) model has the potential to satisfy these requirements.
Disse to artikler kræver lidt baggrund. Schrödinger udgav i 1944 en lille bog med titlen What is Life, baseret på nogle populære forelæsninger, som forsøgte at forklare levende organismer ud fra en teoretisk fysikers synspunkt. Schrödinger havde en fantastisk evne til at forklare komplicerede sammenhænge på en let tilgængelig måde. Han opfandt således entanglement for at illustrere Einsteins problemer med Max Borns fortolkning af den kvantemekaniske måling. En levende organisme er en kompliceret maskine, som befinder sig meget, meget langt fra termisk ligevægt. Den kan kun opretholde denne usandsynlige tilstand, hvis den tilføres negativ entropi via et kompliceret stofskifte styret af en form for genetisk kode (genetik var kendt i 1943, men ikke den genetiske kode). Entropien er i den klassiske mekanik et udtryk for et isoleret makroskopisk systems sandsynlighed. Systemet har maksimal entropi i termisk ligevægt.
En organisme er en art maskine, som styres af informationen i den genetiske kode. Informationsindholdet i en digital kode blev først fundet af Claude Shannon 5 år senere. Informationen i N-bit er givet ved den negative relative entropi i forhold til maximale entropi svarende til, at alle bit har sandsynlighede 0.5. En strøm af bit med P(1)=P(0)=0.5 hat et minimalt informationsindhold. Dette er vigtigt ved valg af et sikkert kodeord. Schrödinger havde ret. En levende organisme er ekstremt langt fra termisk ligevægt. Sandsynligheden for, at et sådent spring sker tilfældigt er lig nul.
Den sædvanlige forestilling om livets oprindelse indtil for 20 år siden var at tilføre simple organiske molekyler energi via elektriske udladninger i atmosfæren eller ultraviolet bestråling på jordens overflade. Man har også forsøgt at tilføre energien til en pose med organiske molekyler. Men i alle tilfælde ender molekylerne i en tilstand af kaos, som hurtigt opnår termisk ligevægt. Forfatterne kalder fremgangsmåden for Dr. Frankensteins metode.
Hvordan kan man definere liv, så det kan skabe sig selv?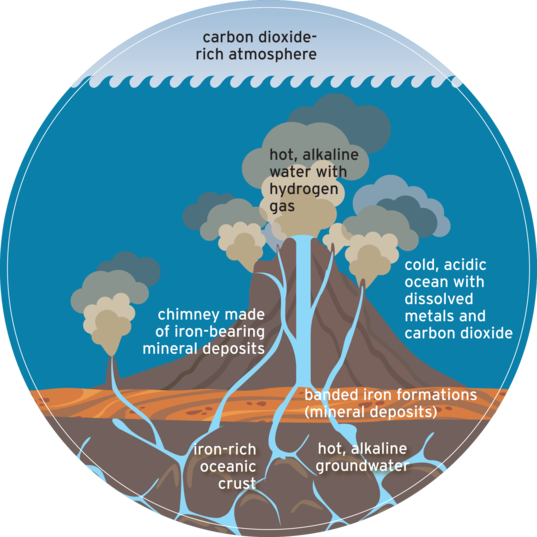 Jeg kan måske bedst henvise til en blog i  "The Planetary Report" af Michael L. Wong: